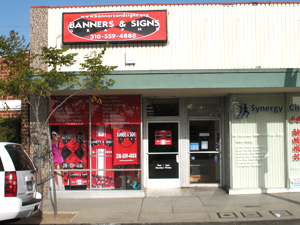 We've been making banners for over 20 years, for Businesses, the Entertainment Industry, Schools, Cities, Charities, Churches and Families.
We care about what our customers think and won't torture you with a phone maze. We'll spend time to figure out the exact look you want on your banner or sign. We also supply a variety of stands, and we rent stands for a reasonable price and provide installation services.
We make:
Digital Color Posters (up to 48″ x up to 100 ft. + Long)
Digital Color Banners & Signs
Window Displays
3D Letters
Outdoor Signage
Magnetic Car Displays
Silk Screening
Engraving
Foam Mounting
Laminating
CONTACT US!
310 – 559–4888  |  310 – 338–9009  |  FAX: 310 – 338–9005
Email Click here
8715 La Tijera Blvd., Westchester, CA 90045
Open Mon – Fri 9:00 – 5:00   |   Parking in front
Click here for a map to find us.